HONK! 2020
Cancelled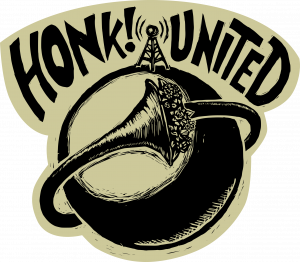 If you still need to fill your gaping 2020 sized HONK! hole, checkout the HONK!United 2020 playlist with HONK! bands submitting videos from around the globe -- including yours truly, H!FW.
We hope to see you in 2021! For now we recommend following CDC Guidelines.
Honk 2019 - Three Days of Brass and Beats in the Streets
In some ways, HONK! Fest West feels like an unintended antidote to the Seattle Freeze. The free, three-day, community-supported music festival—which is devoted to street band culture and features marching bands, samba lines, drum corps, and anything else acoustic and mobile that makes an organized racket—is meant to engage.
> Read the full article at www.thestranger.com.
Volunteers Needed!
HONK! Fest West is completely free to the public. We run almost entirely on the donations from fans like YOU and the hard work of our volunteers. For this year's festival, we need dedicated, passionate volunteers with a passion for live music and community involvement. If this sounds like you, we'd love to have you join our team!
You can register to volunteer here: https://bit.ly/2DB9L2r.
More info on volunteering for HONK! Fest West on our Volunteer Page.
About
HONK! Fest West is an accessible community music festival driven by the energetic performances of street bands in public spaces. In 2019, we are embracing activism by engaging with and empowering the underserved communities of our region.
Volunteer
If you want to volunteer, and help make HONK! Fest West magic, contact our Volunteer Coordinator via our volunteer page or send an email to volunteers@honkfestwest.org
Donate
Your contributions help make this event possible. Through the generous efforts of our shared community, we'll keep bringing music to the streets and parks of Seattle's neighborhoods.